- Q : Krishna, what about Lee Lozowick?

Lee Lozowick is an American spiritual teacher. He is a devotee of Yogi Ramsuratkumar.

That's all.
- Q : That's all? Really? You told me that you felt as a duty to correct some things!

Now, if you want, both these sentences i just said could be expanded. But may i be forgiven when i do so. Some time ago, some hard words from this stupid Krishna could be read on this WEB site concerning Lee. I don't want to say anything against this one or that one, i just feel my duty to defend dharma and to stop some legends. This also was a way to ask Lee to stop the game he was playing since so long. Now, let us remove some of these words, they have become useless and unimportant. Since long I hoped that Lee and i could have links to work for the same goal, as Yogiji wanted.
Because what i know is what Yogiji said : "Lee and Krishna are doing my Father's work." Then, what's the use for one of them to confront the other one? Let us do Father's work. And i never wanted to confront anybody. i'm in fraternal terms with all Yogiji's devotees. Yogiji didn't want that his devotees fight each other. But look at this …


Since these words were put on the Internet, i came to India (Nov.-Dec. 2007), here and there, and particularly to Tiruvannamalai, and heard things i did not know. From them, i could understand better this surprising behavior.
Surprising because this behavior didn't appear in one day. In 1994, the relation between Lee and me was really fine, really good. Even in March 1995, Lee sent me two pictures, one together with our Father, the second one with he and i. And it was like this that this Krishna would want us to be always, even now. However, afterwards, in 1995, and i don't know why, i felt some distance from him and his students towards me. Each of us stayed apart, as Lee was always in a group with his students, which was totally normal. But this distance took such a proportion that one day, in 1996, at the beginning of a darshan, our Father asked us to come to Him and told us : "Go and sit there, and speak together, of anything, but speak!", and, during the days when Lee was there, He always put us together during darshans, and this every year. So, you can see how much He wanted us to work parallel and how much He knew everything!

Now, what i learnt some days ago is that, in 1995, when M. was still with Lee, the latter told his students : "don't meet with this Krishna, he is a bad guy." I was told even more : "this Krishna married a Hindu girl for having a slave at home." Things like this. When hearing such things, for sure i was dumbfounded… They just did not know me! I had to understand the reason of this… M. told me : "Lee hated you." I asked why. "Because Yogi loved you!" - "But Yogiji loved everyone!" - "Krishna, it is like this" … It is true that, in 1995, Yogiji always took this Krishna by His side, everyday, at every darshan. So, is it for this that this behavior appeared? Is it some kind of jealousy?
So, now, i understand better why they were so distant (smile). But i could not understand this hatred because Yogiji loved me! Only the opposite could be understandable. Do you think that the Sun makes a difference and does not send his rays in the same way for everyone?… Yogiji loved everybody! He was Love! I was not fighting, never, i even never thought of doing so i just received blows in the back, never directly and i didn't know. Why to fight? This, i don't understand. But now, what i wish is just to correct what is wrong. Krishna doesn't matter, Yogi Ramsuratkumar's Name matters!


Once, Lee visited me when i was still living in France. I did not know that it was at Yogiji's request. I just learned this during this last trip, some 15 days ago; i tell you the ways it was told to me : After landing in France, Lee told M. : "Now, we will go and see Krishna". M. could not understand this : - "But, you dislike him so much!" - "Yogi Ramsuratkumar asked me to go and meet him." When Lee arrived in our village, my wife (you know, the Indian slave … who got darshan of Yogiji in 1990 and received His blessing at Sannadhi street house) and i did our best to receive him the best way we could. And, to show that we had to work together, i even went to Paris to meet him some days later, telling him the same. But, afterwards, I did not get any news from him. I just met him in Tiruvannamalai every year at Jayanti time. You know, Lee met Yogiji years before me; however, like many others, i spent much more time with Yogiji than Lee did, sometimes visiting Yogiji everyday at Sudama at His request after 6 p.m. in 1995. Lee came to Tiruvannamalai just some times, for some days, for Yogiji's Jayanti. However, this is not of a big importance, as we know some people who were constantly besides Yogi Ramsuratkumar for years and who, after His mahasamadhi, have sold themselves for fame and money in telling lies. On another side, we know people who have met Yogji only once and who have been totally transformed...

Some years later, again at Yogiji's request, Lee visited me in Mauritius. This Krishna did his best to receive him in the best way he could. He brought good musicians from Chitrakut and organized a Ramnam Puja in his small house called 'Yogi Ramsuratkumar Bhavan'. Tulsidas' Ramcharitmanas was chanted and, during the arti, Yogi Ramsuratkumar's name. Then, I brought him to some temple and asked him to deliver a speech there. There also, I told him that we had to stay in touch and work together. Once again, good resolutions were taken, but they have never been implemented. By the way, this puja and Ramcharitmanas chanting were recorded and I sent a copy of the video recording to Bhagavan, to show him that we were together, Lee and i. Ma Devaki wrote to me that Yogiji watched the entire tape.
During his 2 days trip in Mauritius, i witnessed a behavior that shocked me. To please him, i took him here and there along with his German student who had come with him and, since he wanted to buy some 'souvenir', i took them to the covered market in Port-Louis. I don't think that what i lived there was spirituality. He bargained a t-shirt so much that the salesman went on saying aloud for everybody to hear: "God! I never met such a guy! How is that possible to be like this!" I felt so bad... I approached the salesman when Lee was at some distance and told him: "Give it him for the price he has asked. I know you lose money, but I'll come afterwards and will give you the difference?" It was done like this... It was not good, because at that time, relations between us had just come to the normal... All these things hurt me. I never wanted to speak of them. I never wanted to tell something bad regarding somebody. However, you know: when you eat something that is corrupt, you got indigestion and you have to vomit. It's a kind of organic reaction. These things were so much at the opposite of 'Yogi Ramsuratkumar' ...


I am sure that Lee does a good job. He is doing 'Father's work'. Does he not spread Yogiji's name? Did he not release a book such as 'Under the Punnai Tree', following Yogiji's instructions, even when he uses any book for projecting himself in an incredible way? As Yogiji said : 'The messenger is not important, the message is important.' Is it not like this that the Vedas are still preserved, even if nobody understands them nowadays? So, Yogiji's name is spread .... Legends will disappear, the only truth will remain.
I have met some of Lee's students and nearly all of them were very nice. The first i met was Balaram, and i have a very good 'souvenir' that I have narrated in the "Souvenir 1995". These people were very dedicated to him. However, the relations between Lee and i have always been distant, i know better why now (smile). I did not feel him deeply. But i had to understand the deep reason of this hatred towards me and, later, of his way of crushing me in the back. I did not feel him deeply, certainly because of this feeling towards me…. What i could say now, after having lived in USA for more than one year, is that he is a typical American spiritual teacher. I will never say a sage, because he is not, as i am not either, but i will say a teacher. It is the American way. Teaching spirituality is a 'profession', like teaching mathematics. Lee is a 'spiritual teacher'. He makes a living with that; there even spirituality has to bring you some money and fame. It is ok, it is like this in USA. It's all in the mind. Americans are not aware of it, however it is like this... Let me add that they are brought up in individualism and taught to realize their 'ego' .. and get money and fame (laughter). You know, we are just instruments … and you cannot say that Yogiji does not find the instruments fitted to the time and the location. However, relations between both of us got better after some time, and they were good from 1997.


As for me, i think that the first reason of that distance between us was due to this American individualism. This is not at all personal to Lee, but to Americans in general (please note that there are wonderful exceptions, obviously (Hilda, Will, Bret, for instance). They are brought up in individualism. And, also, there is that American pride that makes them think that they are the best, that they know everything, and that other people are second class citizens. This has always hurt me, and i saw this individualism in Tiruvannamalai, where Lee's American students, and himself, were always moving in a group, always together, never mixing with Indians or other people, and looking at Indians as second class people and servants. I think that this hurt me first.

I liked Lee's poems, i read a lot of them before meeting with him, in a booklet found at Sadhu Rangarajan's. Then, later, I felt some difference between what i had read and his way to behave, as i did not feel possible to love Yogiji in the way that could be felt when reading the poems and, at the same time, to be so distant with others than his students. But, ok, there must be some reason that i don't know. Whatever, Lee is doing Father's work and I feel that he is perfect for USA, where people look for spirituality with their mind...

Now, the second thing that surprised me was to hear that he was seen as a "realised soul". A lot of people blindly believed that. It would be great! But in USA, in terms of spirituality, common people are so young and naïve… but this is true for most Western countries.... And see, nowadays you can find a lot of so-called gurus everywhere, and they even project themselves as 'Sad-gurus', let us not forget that this is Kali yuga ... You will always find people to follow... I remember another American girl who came to Tiruvannamalai in 1997, giving darshans. Funny, isn't it? Americans coming to India to give darshans (laughter). She was a Papaji's (Punjaji) disciple, and she thought she was 'realised'. Please consider this sentence : 'she thought she was realized' (smile). You know, what they have got is just some sudden intellectual understanding, a kind of 'second birth', but this has to do with the mind, not with the Atman. When she came at a darshan, Yogiji asked her to come by His side on the platform and was very kind to her. Then, suddenly, He called me and asked me to talk with her after the darshan session... For sure she was shocked! This little guy had to speak to her, to such a realized soul! Nice people, somehow deluding themselves, but nice people. But ok again, everybody is free to think whatever he wants. They think they are realised, it's OK. They create a legend about themselves, it's ok. They get fame and money, it's ok. Spirituality has become a big market nowadays, a global market (laughter), so you will always find naive people to follow them and sing their glory. You find Evangelist speakers who got some fame with many followers, and you find others who use something else. It has always been the same. Remember, one hundred years ago, Swami Vivekananda - the wisdom - on one side, and the Theosophists on the other side (basically American and using Hindu tradition), their fight to be known and the way they behave against him. So, there is nothing new under the Sun, everything is ok. Everything is in order. But this has revealed me that a legend was built about Lee. And I was despairing afterwards to see that this legend continued to be on the making and was getting momentum, with books, until the limits were passed... mainly after Yogiji's samadhi.
You know, when i was in Tiruvannamalai, i did not care about all this, about all these things i'm telling you now. Only Yogi Ramsuratkumar was there. It's only after a long time, and after Yogiji's mahasamadhi, that things come back to your memory and speak. And, really, you have to use 'viveka'! God, you are so surprised, so bewildered! You discover that people who were your deep friends, your deep brothers in Yogiji, have turned totally different once He has left this world!
There is one saying in the Mahabharat and used by the V.H.P. that i love, which is : "Dharmo rakshati rakshitah", "Protect Dharma and Dharma will protect you." What i'm telling you is just to protect Dharma.

Q. : Please, Krishna, go on.

OK. In Tiruvannamalai, in 1995, one of Lee's students, M., was there to look for a piece of land to create a Lee Lozowick ashram, so to say. He was living in some house and, one day, he kindly invited me there. I saw pictures of his master, Lee, on the walls. I had nothing to say, as this relation master-disciple is absolutely personal. But i learned that his master was doing 'pada pujas' in USA (as if he sas a great master) and that people had to pay for attending them! However, here again, i had nothing to say. USA are USA; i respected his beliefs... One day, i came to learn that M. had left his 'master', so much he was disgusted. And his master did everything afterwards for denigrating him. I could not believe it. This is what he tells me once again (nov. 2006) : "It was only a handful of years ago when I decided to leave Lee as my teacher and fully accept Bghwan as my master. One of the reasons I decided to do this is because of some of these actions that Lee does and always has done. When I took this act to leave him, being a double scorpio that he is and not a master like he thinks he is, he did everything in his power to stop me from going around France working with people and bringing them to Yogi. As you know this brought much heart pain number 1, then anger and tension. As I traveled around, I spoke of all this injustice to different people. "

My God, these words are pretty hard! M. left Tiruvannamalai where he could have a daily darshan of Yogiji and settled in France. Lee did everything to prevent him to bring people to Yogiji in France! How was it possible to understand this???? I couldn't.
By the time, i met another American student of Lee. His name is B.. This man was and is a really wonderful one, with such a heart, a great one! For him too, Lee was 'divine'. He had begun to build a house in Tiruvannamalai very near Yogiji's ashram. It was long to finish it, because of so many problems. B. lived and still lives in Tiruvannamalai and not, as Lee, in USA. After some time, so big his heart is, he offered his house to Lee's "trust" or whatever the name, let us say 'Lee's Hohm Community'. And you know what? This: some time later, this wonderful B. was just thrown away from his own house! Useless to tell you that, he also, left his 'American guru'. These two men, both American, have lived in the contact of Yogi Ramsuratkumar, and with time they have felt the difference between 'American spirituality' and true wisdom. They just left Lee. In spite of this, I can read a thing like this in a book written by some student of Lee : "...This article highlight a speech given by Lee Lozowick during the opening ceremony of Hohm community house, newly constructed next to Yogi Ramsuratkumar ashram". When you read this, knowing the truth, you smile .... It was B.'s house … and B. has given it... to be thrown away. Name it American spirituality if you want, as for me i don't know the name for this...

These events made things more difficult for me to be close to Lee…. As other things i said before…

Now, this year, the same B. who, like this Krishna, has married a Hindu woman (maybe he too wanted a slave at home …). I asked him if what Lee said about me was true. He confirmed and also told me that Lee hated me. I asked him why, and his answer was the same as M.'s answer : "So simple, Krishna, because Yogiji loved you so much! I have never seen any foreigner loved by Yogiji the way he loved you!' - "But Yogiji loved everybody!" So. B. told me exactly the same as M.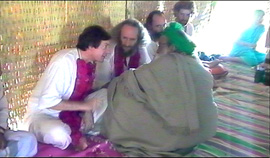 I had to understand why all these things…. I think I do now, after this last trip. Lee was the only child of a Russian Jewish family, and he was brought up in USA. This is a 'must'. Everybody knows that any "only child" doesn't know what brotherhood is, because he never had any brother neither any sister. These children are alone and are seen as kings by their parents. So, they grow with the feeling that they are better than the others, that they are leaders, whatever. This is not at all their fault. It is like this, and it must be very difficult to get rid of this, to free oneself from this.
But this gives some light…. Let us take another example. O., one of the three 'Italian sisters', received Yogiji's blessings to write a book on Him. When the book was completed, the ashram refused to publish it (this is another story). O. narrates in her last email to P. (email that P. read me during this last trip) that, once, she received an email from Hohm Press (Lee's Press), saying that they were ready to publish her book, provided that they could add some things. Olga clearly refused. Following her refusal, she writes that Hohm community sent her another email saying that they had torn her book in pieces ….

You know that Mani's book has been published by Hohm Press. In the same way they wanted to do with O.'s book, in this book of Mani, they have added some things. An entire chapter appears on Lee, chanting his glory, etc…. and in which you find the absolute opposite of the truth, as i prove it somewhere else. But so it is… You can find on this WEB site, about Lee's ashram story, what Yogiji really said, as His words were recorded on a tape (nobody knew about it, but so it is). You can also find the real thoughts of Mani….
In Mani's book too, when he and myself were so close, when in Chennai i was staying at his home, when we prepared the 1993 Jayanti together, Krishna has almost disappeared and he is just a 'Frenchman visiting'... What is funny is that, in the book "Under the Punnai Tree", published by Hohm Press too (meaning Lee's Press), we find exactly the same in the mouth of Balaram when he narrates (in 2003) an episode of 1993 : "a man visiting from France". It is absolutely funny! Really funny! Lee has always done this, putting down people that could put him a little bit in shade. When you know that Yogiji was waiting for me, asking about my coming for days, you feel that this is a really very strange behaviour.... There is also the episode of the videotape he has released, it is the same.

Now, one is led to understand this: In the same way he was the 'only son' at home, Lee wants to be seen as the 'only son" of Yogi Ramsuratkumar in the West. He wants to project himself as so. He wants people to believe that he is His only son, his only true Western disciple, that he only can speak in His name, etc. etc. He wants to be recognized as such. For this he does everything, never directly. M. was spreading Yogiji's name in France, therefore M. had to be crushed. O. did not want a chapter to be added in her book, aiming at the same goal, then O. had to be crushed. Krishna had to be crushed first, because he was the most embarrassing people. So, he was fouled. When they released that videotape on Yogiji, they did everything possible to remove Krishna from the tape. It was difficult, as at that time Yogiji took me continuously by His side. For sure i don't care, only Yogiji had to appear on the tape, even if, actually, it is not so (smile). And all this in spite of Yogiji asking twice Lee to visit Krishna, even in the far Mauritius!!! Then, not so long ago, Lee went on saying another lie, according to which Yogiji did not want any web site on Him, when i created the first website when He was still among us and when i received His blessings. Was it for making Krishna appear as wrong to people? What i said on the web was an organic reaction after this last lie. Too much was too much. You know, the beginning of Bhagavad Gita teaches us to fight against adharma, even if it appears in the midst of our own family. So, i did not fight against anybody, i fought against adharma, let us be clear on this.
I just could not understand this behaviour. During this trip, i have learnt that it has begun on the very first day by saying horrible things on my unimportant person, this when they did not know me at all! Yogiji wanted us to be in good terms, and i tried my best, but it is clear that i failed… There is something wrong, because it seems that i am not the only one and that even in Tiruvannamalai ...

So, i just ask Lee this today: please, brother, stop this game. Our Master was the embodiment of humility. Learn some please. You are not the only son. They are plenty. Let each of them do his work and spread Yogiji's name and glory. You have to remove this idea from your mind, you have to free yourself from this idea. You have to go beyond. You have brothers and sisters, you are no more alone, and you have to learn how to play with them, to accept them as your equals, to respect them. You are one of them. We might be happy to find others spreading our Master's Nama! Brother, be happy for this, help them instead of fighting them by giving them names, and you will find what is called Love.

Yogiji wanted us to be in good terms. He said that we are doing Father's work. He sent you twice to me; do you think it was for nothing? Brother, free your mind, go beyond it, or at least try to do so. True spirituality begins only when one has cut one's head. There, you will find "unity, harmony". "There you will find that "nothing is separated, nothing isolated." Brother, let us work in harmony. As our Father said : "The messengers are not important, the message is important." Messengers are just instruments. It's ok if you get fame in being an instrument for bringing people, at the level they are, to look deeper in themselves. Simply, don't fight against your brothers in this Western way of trying to put down some 'concurrence', because for these brothers of yours, there is no 'concurrence'. There is only Yogi Ramsuratkumar. Let us be all together, and this togetherness is within you, in the same way we could see in the pictures you sent me in 1995.

Q. : Is it true that Bhagavan said once that Lee was an Indian saint?

K. : It seems to me that it was Pon Kamaraj who said this and not Bhagavan. But let us presume it is true. And i think it is the reason why Lee has put his own photo in the same book his Hohm Press has released on some great Indian sages… So, he is among them... You know, Yogiji said the same about this stupid Krishna who, however, would never do the same. And, even if he wanted, this stupid Krishna is in some ways like his Father, he does not own any book house (laughter). See, at the same time He told us we were saints, he was saying that He was a dirty beggar and a dirty sinner (laughter). See, let the one who is able to understand understand…. where the saint is and where the dirty sinners are ….

***************
Another day
Q. : Krishna, could you tell me what happened after Bhagavan's mahasamadhi regarding what you said on the other day?
K.: I'm afraid to be harsh. But, if you have read the Mahabharata, you see how sometimes they were speaking harshly about each other, without gloves. But they were face to face and Lee is not present here, and that's a problem. I'm afraid to do what he did, meaning speaking in the back... Alas never it has been possible to really speak together for more than some minutes, even when Yogiji asked us to do so during darshans. But you know, using oneself, then using others, then using Yogi Ramsuratkumar's name. There, it was too much for me. Sometimes, after reading some incredible sentences, I could not sleep. So many inventions!
Mera nam Krishna hai. But this name is the name of a well known Krishna, whose teachings are in the Bhagavad Gita. The very beginnning of the Bhagavad Gita is the teaching that, even if people are part of your own family, even if your heart knows warm feelings for them, you have to fight them when they follow adharma. And, i am so sorry, but i feel adharma since long. Oh, God, I'm not perfect, but i'm not putting myself on a pedestal either. My being has no importance, but Yogi Ramsuratkumar's name is sacred, and nobody has to play with what is sacred. So let me say this:
You will find some examples in the notes I have taken, which are entitled "At the Feet of My Master". These notes have been written on a day to day basis, just after the narrated events. I felt useless to publish them before, because it was useless to narrate personal experiences. However, now, I feel more and more that I have to publish them, just to re-establish what is true and to stop legends and lies. As i don't look for money, i think that i'll put them on the Internet, step by step. Now that Yogiji is no more on earth, egos swell again and legends spread! I felt that we have to fight this, it is our duty to act again adharma and to do in such a way that the sacred name of Yogi Ramsuratkumar is not used for selfish interests. As long as things are true, what could i say? As long as people go their own way to get fame and money, it is their problem, as when Lee publishes a book in which he puts himself at the same level as Sri Ramakrishna, Swami Rama Tirtha, Ramana Maharshi or Yogi Ramsuratkumar. Is it not fantastic, unbelievable??? However it is true, you can find the book! In our so-called modern Kaliyuga world and times, it's a good advertising, and only naive people who don't know and are unable to discriminate will take it for granted, however this is their own problem. What i know is that neither Sri Ramakrishna, nor Ramana Maharshi nor Yogi Ramsuratkumar could do the same .... because they were sages, because they did not care about fame and money, because there was no more 'I' in them.
I remember that, one day, at the beginning when I was still in France (i left France in 1996) I received some leaf from Lee's organisation, asking me for money to buy some piece of land in France to build an ashram there. I was surprised for sure. Surprised to see (but this is an American way too, I learnt it afterwards: 'to raise money'; this means that you ask other people for money to do something that you would like to do) ... and here it was for him to get a piece of land in France; for sure in the name of an 'association' .... Then, I wrote to Yogiji to tell Him about this, adding that first I had not a lot of money and, second, that the money I could put aside was used for spreading Ram Nam. As we can read somewhere in my notes, some years later Yogiji will speak of this with humor in the hut when it will be question of some ashram for Lee in Tiruvannamalai ... To raise money? Never Yogiji would have done this! Never has He asked for the house in Sannadhi street! Never has He asked to build an Ashram! Never... So much difference .... ok, Lee got a piece of land in France .... nearly at the same time I left this country. I speak of this in my notes .... Later he will do the same to get a piece of land in India ... and i speak of this too ... Why not getting a piece of land here and there, this is not my problem.
Our Father is no more in a body .... Lee's legend continues and swells, based on what? On just some days passed with His Master? This would not have been enough. It is why some external things had to appear, and here begins the adharma and some lies. (You know, Muhammad's life is also based on legends .... pieces that have been added after his death ... and look how many people on earth are believing and following that legend!). The making of the legend continued in 1995 when some days before Yogiji's Jayanti, Lee arrived with some students and a French cameraman for making a movie. This movie was supposed to be about Yogi Ramsuratkumar. However, many among us immediately understood that the movie will be an operation for promoting our friend Lee. Lee did his best to be filmed by Yogiji's side. However, what happened this year is that Yogiji was somewhat distant from Lee. What happened is that, this particular year, He took me constantly with Him (be quiet, at some other times, I don't remember which year, I felt that He was distant from me. i just say that, this year, He was distant from Lee). So, it was very difficult for the French cameraman to take pictures of Yogiji and Lee together. The only possibilities occurred when Yogiji asked Lee to come to Him during darshan, just to ask him some song from his students. At each time Lee was so called, all American cameras and video-cameras were suddenly activated. It was funny... and they had to do it fast as it was only for some seconds ... I have a lot of video that has been taken at that time... and these videos are available. Then, I asked myself how it will be possible for this movie about Yogi to promote Lee in the way he wanted. I never looked at this tape, but a good friend of mine, who has met Yogiji, told me that : yes, it was a good operation of promotion and that they succeeded in putting me away from the images and in promoting Lee on the screen... This has been, for me, the first real experience of the making of the legend... Because i was there, i have seen everything .... I speak about these days in my notes, and a part of these notes regarding this are already on the Internet.
This made me sad to see that Lee was using his Master for promoting himself; i became almost sick.
Afterwards, after Yogiji's mahasamadhi, books began to be seen on the web. These books were written by Americans, Lee's students .... They were written for Lee Lozowick's glory. It was the continuation of the making of the legend. Here, some sentences were published on the web and I was flabbergasted! To read sentences put in Yogiji's mouth, sentences that He never said about Lee! But people reading that would take them for granted, for gospel truths! I was not alone to react, but nobody said anything to show that these things were nothing but lies. And it was so well done, you will never see any intervention from Lee himself, everything is indirect and well done. You know, the two American ex-students of Lee I spoke about above have lived in Tiruvannamalai, having darshan everyday, and with time they have seen the difference between American teachers and preachers and a true Indian Sage. But those who have never got the blessing to live for some time by Yogiji's side? They will not make any difference, and they will believe blindly what they will read. USA are a land of the mind, of analysis, of cutting things into pieces. It's not possible for them to live (not to understand, but to live) : "Nothing is isolated, nothing is separated". They are brought up themselves in the idea that there are 'individuals' and that they have to realize their individuality! Look, in 1999, we were so surprised to hear Lee speaking like a Vedantist, for the first time! We turned to each other, so surprised, and said afterwards: "God, it seems that Lee has just got something!" It was time, it was the year 1999! But what happened later proved us wrong.
I would want here to digress a little bit to narrate a funny event. The date was 29th November 1993. Before M., Lee had sent another of his 'students' regarding the ashram he wished to create there in Tiruvannamalai. The Indian name of this student is Balaram and, in my notes, this darshan is entirely narrated. It is during this darshan that Yogiji declared that "... this beggar, and Devaki is his eternal slave". You know what? Coming out of the darshan, Balaram was dancing and claiming: "Did you hear? Yogi said that Devaki is Lee's eternal slave'', and he went on like this. Yogiji said "his", but, so much the legend had already sprouted, that Balaram understood "Lee's". By the way, this Balaram will not hesitate, he also, to tell lies about this day in the book "Under the Punnai Tree".
However, last and most disgusting had to come from a disciple who passed years with Yogiji, as he was the responsible for the Ashram. I speak of Mani. Mani and i were very close at the beginning. I told you about on the other day. I was with him at Sudama when, as we could say, Yogiji took him with him ... this was at the end of 1993 for the preparation of the Akhand Ramnam that had to take place on the 2nd of January 1994. At that time, Mani was giving me shelter in Madras, as already said. He was very fond of Yogi Ramsuratkumar. We became very close. In his book, Mani says some words about that meeting with Yogiji ... I have to put on the web my notes that were written immediately after that meeting, because the way Mani narrates it is not exactly 'exact', but this is not of a big importance, as the main thing is rightly said.
Mani's book begins with a lie, saying that Yogiji has asked Him to stay with him for the next 10 years. Actually, it was not 10 years, but 5! From 1994 to 1998. Let us forget it... In 2003, i went to Mumbai where i was one of the speakers in the "1st International Conference and Gathering of the Elders of Ancient Traditions and Cultures". It was in February 2003. I was wearing the clothes given to me by my Father some years before, asking me to wear them, when i felt so unworthy to do so. But this is another story. At the end of this conference, I went to Chennai, then to Tiruvannamalai. At Chennai, I was welcomed by another Yogiji's devotee, a brother of mine, we were and are very close. He told me that Mani had written a book. Then i thought that this was a great thing, as Mani had been with Yogiji, day after day, during 5 years! However, when my brother told me that the book was published by Lee Lozowick (Hohm Press is Lee Lozowick's) and that, because of this, it was not really objective and things seemed to have been written according to Lee's desires, I decided not to look for it. As this brother knew Mani's phone number, I asked him to call him because i wanted to speak with my other brother: Mani. Yes, Mani and me were very close, even if Mani does not speak at all of this in his book (I know why now). But i got a surprise! My brother got Raji (Mani's wife) at the phone. Raji and me were close too, she knew me pretty well, God! But she did not speak with me and told my brother M. (not the same M.) that it was possible for me to send an email to Mani! What a surprise! I did not understand such behaviour! Then, my brother gave me Mani's email address but .... i never got any answer from Mani! How strange it was when we were so close! Now, after reading some lines from the book, I understand this behaviour: Mani knew that I knew ... He did not want to get troubles with me.... However, today I have to disclose this.
I did not want to read the book, in the same way i did not want to watch the tape. I knew it was another promotion operation for Lee.
It is only in 2006 that i told myself: "you, stupid Krishna, you have to know what Mani has written", and i ordered the book through the Internet. I just come to meet it some days ago (Nov. 2006). I have just read the beginning and the chapter 'dedicated' to... guess? ... Lee Lozowick. And there, I was stunned once again! Such lies, such a hypocrisy! I saw that Mani has sold his soul, and went as far as putting words in the mouth of Yogiji, as : "My Father failed!" My God, my God! How is this possible? Actually, what Mani felt towards Lee was the total opposite of what is written in the book. When I read this chapter, I tried to translate, with my bad English, some part concerning Lee's land in Tiruvannamalai and I put it on the web. Lies and lies! I felt my duty to do so. You know, Mani does not know it, but what Yogiji said has been recorded. I have His words on a tape... They have been recorded. You can read them now on the web. What I say is proved, what he says is the opposite of the truth, a big lie. As one says in France : "Mani is taken while having the hand in the bag!". And it is the same for the entire chapter: lies and legend. For instance, about Lee going to Yogiji's seat. I can tell you, I went there too, and even Bret; this is recorded on video. These videos are available. And this is not important: as for me, going there was a fantastic exercise to crush the ego ... And look, the main disciple of Yogiji, Justice Arunachalam, once was told by Yogiji: "I send them there, but you stay here."
To build a legend around Lee, making people believe that he was Yogiji's successor, his 'voice', received powers from Him and such things, this is crazy! What about so many devotees? What about Parthasarathy, what about Justice Arunachalam, what about Shankara Rajulu, what about Ramamoorthy, what about so many wonderful beings. And tell me, what about all those servants in the Ashram who served us as if we were kings, doing it with such a good heart! Muttu, Selvaraj, Ravi who was Yogiji's driver, etc... ? Were they not blessed? Were they not our brothers? Oh, they could teach us a lot, through their humility!
So, seeing all this, seeing also that nobody moved, I have taken the decision to put my notes on the web. The organism had to vomit, even when the person inside did not want (click here and see particularly 2 Nov. to 13 Dec. 1995). There are so many pages .... Indians don't move because they don't care. And they know that USA are not a land of wisdom... I know that, at the end, Yogiji's name will come back and that all the legends will disappear.
I went to USA for the first time in 2003. I went there 5 times since then, at each time for 3 months. This is much more than the time Lee has passed with his Master. This makes 15 months. There, I met what Swami Vivekananda named "American spiritualism". It is all mind, mind, mind! Let us not speak about the New Age movement! There is no wisdom there, there it is business. There, they believe they know everything and that they are the best, most of the time without knowing anything else neither about others. They take from here, from there, they mix and say afterwards that they have discovered the only wisdom and so on ... Lee, I'm sure, is doing a nice job in USA, and to be Yogi Ramsuratkumar's devotee is a real great blessing. However Lee is ok for USA and for American spiritualism, Yogiji knew this and Lee must be good for Americans. And he gets fame and money, as Americans like. Nice for him. But this is enough and please, don't mix things. Yogi Ramsuratkumar is incarnated God, Lee Lozowick is an American teacher of spiritualism.
I have already spoken about the last Lee's lie: he told that Yogi Ramsuratkumar said that He never wanted any website about Him! The site I have created was created in 1996! Yogiji was still alive and i have been blessed. Then, why Lee did say such a lie? As if he was Yogiji's voice? What is this? Let me put it this way : Yogi Ramsuratkumar is Yogi Ramsuratkumar, Lee Lozowick is Lee Lozowick, a human brother of us.
This is the last lie. I have narrated it somewhere else on the web site of the Bhavan. Let me bring it here, for all the things to be together. This is exactly what has been said :